BioShock Infinite Collectors Edition Announced!
18 October 2012
Last Updated on 21 October 2012
Irrational Games and Ken Levine have announced the Collectors Editions for the release of Bioshock Infinite. The much anticipated game will come in 3 different editions for Xbox360, PS3 and PC:
Standard Edition for $59.99, Premium Edition for $79.99 and Ultimate Songbird Edition for $149.99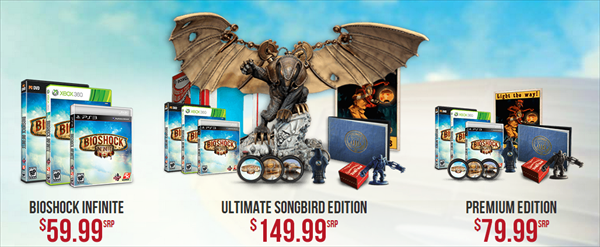 The Premium Edition includes a 3-inch keychain replica of the Murder of Crows vigor bottle, a lithograph by Jorge Lacera, a resin-cast Handyman miniature to go with Plaid Hat Games' upcoming BioShock Infinite board game, a mini art book, a soundtrack download, platform-specific digital content (Avatar goods for Xbox 360, themes for PS3/PC), and an in-game Upgrade Pack.
The Ultimate Songbird Edition will include everything that's in the Premium Edition plus  a 9.75-inch Songbird statue designed by Robb Waters, the Irrational Games concept artist. He's the man behind the look of the Little Sisters, Sander Cohen, the System Shock cover, and the  Songbird.
Here's the Official word from Irrational Games Creative Director Ken Levine:
"So, you wanna buy a nice Collector's Edition? I can get it for you retail.
 Thanks, I'm here all week. The veal is on special.
Imagine you get to work with Robb Waters, the concept artist who visualized the cover of System Shock. The Trickster in Thief. Man-Bot in Freedom Force. BioShock's Little Sisters. Sander Cohen. And BioShock Infinite's Songbird.
Now imagine you can get him to personally conceive and oversee the production of the coolest statue in the world.
Then imagine we put that huge sucker in a period-style box, with custom artwork by Robb and Irrational concept artist Jorge Lacera. And that box went IN the collector's edition box so you could leave that guy unpunched in his original packaging while you tear happily into the rest of the goodies.
Now imagine that 9-and-a-half-inch statue looked like this…
That monster is what's in the Ultimate Songbird Edition of BioShock Infinite. But if your sugar daddy won't pony up for the whole megillah, there's also the Premium Edition, which includes a giant pile of swag:
–A 3-inch baby version keychain of the sold-out Murder of Crows vigor bottle replica.
–A 5 x 7-inch lithograph by Jorge Lacera.
–A 25 millimeter, resin-cast Handyman miniature from the upcoming BioShock Infinite board game by Plaid Hat Games, makers of Summoner Wars.
–A mini art book, full of BioShock Infinite concept art and commentary, with a hand-distressed cover.
–Various digital goodies: exclusive in-game gear, a digital soundtrack, and platform specific downloadable content (Avatars for Xbox LIVE, and Themes for PC and PlayStation 3).
Of course, all of the above is also included in the Ultimate Songbird Edition. And for the true nerds in the audience, the Songbird statue, the Murder of Crows keychain, and the Handyman all come in separate custom packaging.
Both Collector's Editions will be available in limited quantities, so yadda yadda, sign your life away right now!  
You owe it to yourself (and to poor, sad Ken Levine, who can always be spotted by his tiny crutch that sits forlornly by the Christmas dinner table) to check the thing out in this lovely display made by our amazing web team. I like it. My mother likes it. So it must be good."
—Ken Levine
This will definitely be a MUST HAVE for die hard fans of the series. Looks like you can PRE-ORDER now at Gamestop.com